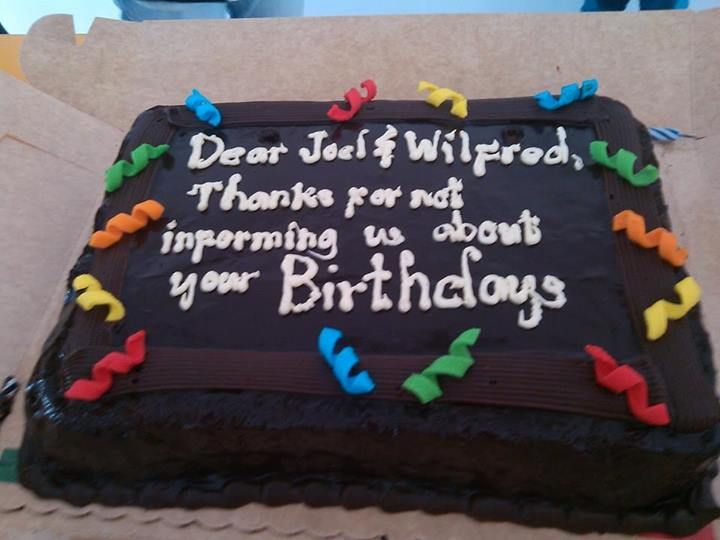 I was supposed to write a longer obligatory birthday post on the date of my birthday mismo, but I figured I'd postpone it for a few days considering the current situation of our country.
My birthday falls on the 10th of November, and
yesterday my officemates surprised me and a co-worker with a cake. Take note that my co-worker's birthday was two months ago, but they found out about it only last week. And the message on the cake is priceless, deserving a year-long LOL. This is what we get for being two of the most secreti
ve (and kuripot) people in the team. I love my officemates. Haha, thanks, guys.
I was supposed to go to Cebu to celebrate my birthday, but news about Yolanda began airing on TV like crazy and you can imagine how disappointed I felt. It turned out the postponed trip is nothing compared to the aftermath of the typhoon. Disappointment turned to sadness when I woke up to news about Yolanda having destroyed thousands and thousands of lives.
It wasn't a good time to celebrate my special day (hell, calling it 'my special day' sounds quite inappropriate). I just went out for coffee and bought my family pizza; and yes, I did my part in helping the victims, but I won't explain any further.
My birthday wish is that the hardships of our kababayans down south would soon be over, but facing reality, that wish would probably take years to come true.
Thank you to everyone who greeted me on my birthday, and more importantly, a big virtual hug to those who have already taken their time to help the survivors of the typhoon.
Let's do more, please.