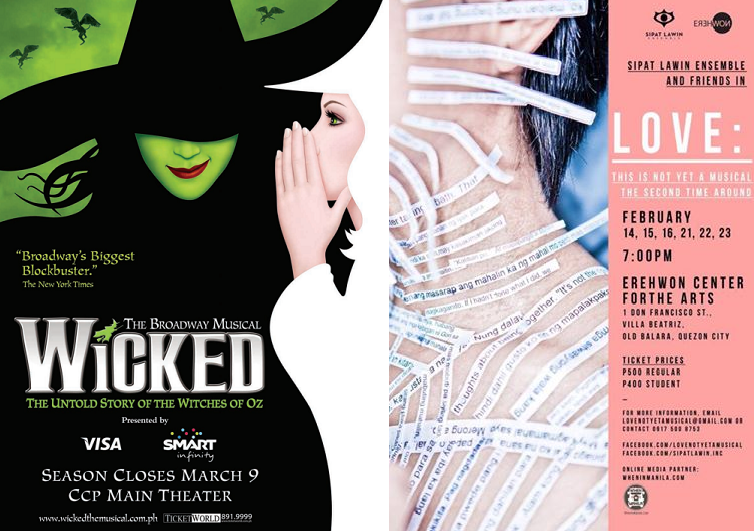 I've learned my lesson. Never see a much-anticipated musical on a Saturday, then watch an equally unforgettable production the next day; otherwise, Monday would come and you'd still have difficulty recovering from the best weekend ever.
That's exactly what happened on the 22nd and 23rd of February, when I watched Wicked and Sipat Lawin Ensemble's
LOVE: This is Not Yet a Musical
, respectively.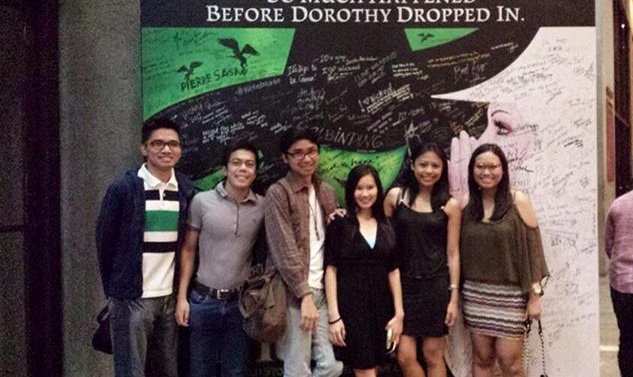 To put it simply, I was the fidgety Wicked fantard from start to finish. Even though I've already watched countless Youtube vids of various productions of this musical, nothing beats seeing it live. F
or some reason I felt scared that
this
would happen during our show, but
when Elphaba, singing "Defying Gravity," formally declared her rebellion by rising from the stage, I could feel my hands shaking with glee.
Of course, it's all fun and games until my friend failed to get selfies with Jemma Rix and Suzie Mathers outside CCP. Sorry, pal. Next time na lang.
The next day, I traveled from Las Piñas to Quezon City, which is already another planet for me.
Airport Lights from LOVE: This is Not Yet a Musical. Video here.
Sipat Lawin Ensemble's
LOVE: This is Not Yet a Musical
is different
.
It's no Wicked, where you just watch the show unfold in front of you. In LOVE, the audience is part of the show. The spectators started out as one crowd before getting separated into four groups. I got separated from my friends, and I had no choice but to experience most of the show with people I've never met. From there on, we were subjected to four love-related themes,
Init, Lamig, Tanaw and Alaala, all involved Sipat Lawin reciting lines submitted by more than 300 contributors.
Note that this production, according to its Facebook page, is a "Guinness-bound play with the most number of playwrights." How cool is that? Anything can happen in this interactive play. I've never hugged so many strangers in one night. You can be forced to dance with an actress while she cries as she remembers a lost love. You can be pushed to bed by that young lady and have her jerk you off til you come (done using props, of course). Intriguingly, that random girl in your group who never speaks may admit to everyone that she once slit her wrists due to heartbreak.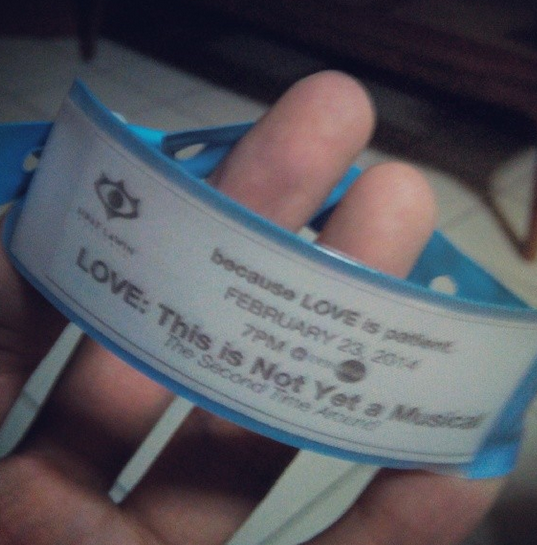 No wonder we were given these bracelets to wear during the show.
Soon, the four groups reunited on the rooftop of Erehwon Center for the Arts. And after accomplishing emotionally purging tasks of making tableau, burning paper hearts, hitting tin cans, throwing flour at each other, dancing without a care in the world, looking back on lost love, looking forward to new ones, and more, the event culminated with heartwarming exchanges of gestures among us. People roamed around, giving hugs, taps on the back, even kisses. I could only give high fives.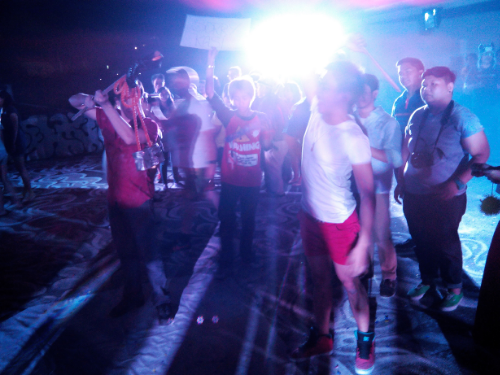 Now I may have just explained the basic, tangible mechanics behind the show, but there is something much deeper behind what can be perceived by the five senses. This is a show one has to experience in order to fully understand.
Perhaps it was only normal for the show to end that way, on the highest part of the building. It was during these gratifying group activities that prove that love may exist in different forms (as exhibited by how we were separated into groups), but it is still universal. Love is for everyone. It is given, received. May it be between husband and wife, between two friends, or between two strangers. And yes, nagpakalalim ako, but that is what
LOVE: This is Not Yet a Musical
would teach you
. Here's hoping Sipat Lawin would re-stage it as soon as possible. Trust me; this is emotional therapy at its finest.