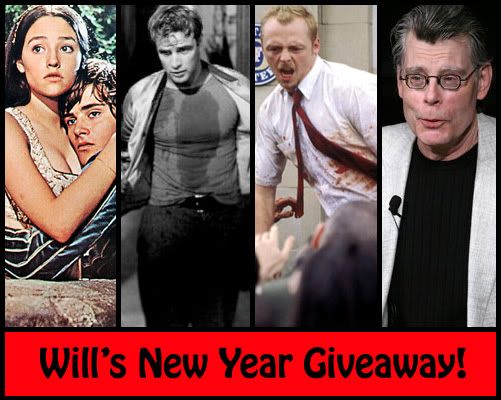 A huge thanks to those who joined my birthday giveaway last November! Here I am once again with another contest to celebrate Christmas and New Year, and also my 100th follower and 10,000th page view. I am giving away not one, not two, but three prizes to three lucky bloggers!
Here are the prizes.
1. For the bookworms, a hardbound copy of Stephen King's Just After Sunset (2008). More info about the book found here.
2. For those who want their movies served with blood, an original DVD of my favorite zombie film ever, Shaun of the Dead (2004). Watch the trailer here.
3. For the Classic Film buffs, original VCDs of A Streetcar Named Desire (1951) and Romeo and Juliet (1968). Two prizes in one! Trailers here and here.
To join the giveaway, simply comment on this post saying which prize you want, Prize 1, 2 or 3.
Same rules apply:
1. You must be an active blogger living in the Philippines. Doesn't matter if you're on Blogger, Wordpress, Tabulas, Livejournal, or even Tumblr, as long as the blogosphere is fully aware of your existence.
2. Your blog must be active for more than a month.
3. Your comment must come with your username, your blog URL, and an email address (to contact you if you win). Tip: To avoid getting spammed, write your email address this way: username(AT)email(DOT)com.
4. You can only pick one of the three prizes available. No cheating, please. It's Christmas. Have a conscience.
5. If a prize is picked by a lone blogger, then that blogger automatically gets the prize after the giveaway's deadline, which is on December 31, 2010, 11:59 PM.

6. Winners will be picked via Random.org on January 1, 2010. They will be given 48 hours to answer my email. If a winner fails to respond, then his or her prize will be given to another blogger.

That's it. I want to wish everyone a Happy Christmas and a Merry New year, and to thank those who've been supporting my blog since day one. Good luck to those who will join this giveaway!