Sword of the Stranger
follows the story of a nameless samurai whose dark past keeps him from drawing his sword. During his travels, he befriends a young boy named Kotaro, who is pursued by Chinese soldiers of the Ming Dynasty due to mysterious reasons. To protect the boy, the Stranger is forced to draw his sword once more, defeat countless enemies, and face the Ming's most fearsome warrior, Luo-Lang.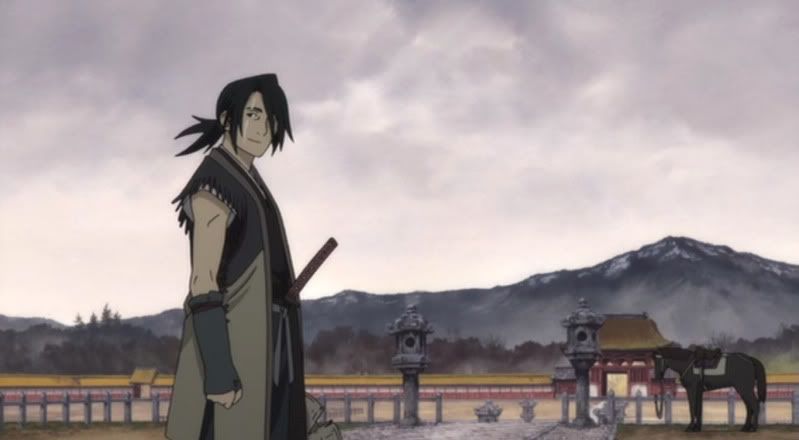 The titular stranger.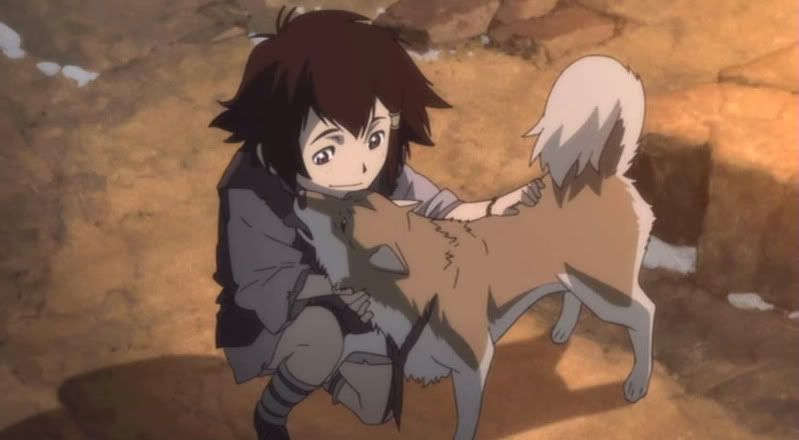 The boy and his dog.
The film is a visual masterpiece. The hand-drawn characters blend in well with the background, also meticulously detailed right down to the smallest rock. This setup soon works wonders during the action scenes, which are indeed the film's best assets. The last half-hour contains nonstop action, with people getting diced and sliced before concluding with one of the most jaw-dropping one-on-one fight scenes I've ever watched in anime. The animation during the actions scenes flow smoothly, and the camerawork impressively captures the mood with appropriate zooms and pans. Combine these with an epic soundtrack and you get adrenaline-pumping sequences you'd be willing to watch over and over again. I have some gripes with the movie, though. The story has a tendency to confuse us with a lot of unimportant characters. Foreigners or those unfamiliar with the movie's backstory would surely get lost and confused in some parts. The ending, no matter how much heroism it entails the main character, appears to me a bit violence-condoning. I would've preferred the Stranger going through the final battle even without drawing his sword. But that's just me.
The final fight scene is a must watch.
This is one of those overlooked animated films of
2008
, but I surely would not recommend this to children due to its extreme depiction of violence. And I warn the weak-hearted audience that this film has a certain level of cruelty, killing off even the major characters and ending in a bloodbath with an impressive body count. This film is cruel, very cruel. That being said, even though it has certain character development issues,
Sword of the Stranger
, a tale of friendship and camaraderie, is still an eye-pleasing, heart-stopping animated movie that rivals even the live-action ones. Here's to those who want their anime bloody.