I owe thanks to my list of Top 10 films of 2010 for making me promise myself that I'll watch more Filipino films this year. We are still getting used to the first few days of 2011 yet we already have quite an impressive lineup of Pinoy films. Let's take a look at some of them.
Starring: Vhong Navarro, Angelica Panganiban
Directed by:

Chito

S.

Roño
Following an old superstition, a young nurse (Navarro) whispers his crush's name on a dead person so as to make the girl fall in love with him. Horror ensues, and the nurse seeks help from an expert (Panganiban) to get things back the way they were.
I'm quite a fan of Panganiban, thanks to her performance in
Here Comes the Bride
. It'll be very interesting to see her do a horror-comedy with Vhong Navarro. I'll surely see this one.
Zombadings: Patayin sa Shokot si Remington


Starring: Mart Escudero,

Janice De Belen, Roderick Paulate
Directed by: Jade Castro (Endo)
Screenplay by: Raymond Lee, Michiko Yamamoto (Ang Pagdadalaga...)
Not really sure what's going on here, but the film's Facebook page has this to say about it: "A coming of age story.

A coming together of friends and family story.

A coming of Zombadings story.

Coming sooner.

" Based on the trailer, we can say that gays are being killed, and that they have risen from the dead for some unknown reason.
I already have some people who'd be willing to watch this with me (this means multiple viewing times). Just seeing the awesome Roderick Paulate and the super funny Eugene Domingo in the trailer is already enough to make me want to see this one. Plus, the teasers are hilarious. Check them out on Youtube.
Tum: My Pledge of Love
Starring: Mariel Rodriguez, Robin Padilla
Directed by: Robin Padilla
I've learned when I watched Rosario that you should NEVER judge a movie based on its trailer. But when it is possible to do so, then I will miss this one on purpose. Trailer's not very impressive, but we have to give Padilla a shot, hearing how some declare that he wrote and directed the whole thing, and that the entire film is shot in India, with Indian actors and Indian stuntmen and a whole lot of India-ness.
Which brings us to the question: Are Mariel and Robin really in love with each other?
My Valentine Girls
Starring: Richard Gutierrez, Eugene Domingo
Directed by:

Mark Reyes, Chris Martinez, and Topel Lee
To be honest, the last Richard Gutierrez film I watched was Let the Love Begin, which I actually liked. I admit that if Eugene Domingo is not in this one, and if Chris Martinez isn't one of the directors, then there is a high chance I'd be ignoring this. Gawd, Eugene has got to be one of the most hardworking actresses in Philippine showbiz. And she delivers her best in each and every one of her projects. Yes, I'm a fantard.
Which brings us to the real question: Since this is a Valentines movie, who will I be watching this with? =(
And speaking of Eugene Domingo...
Kimmy Dora 3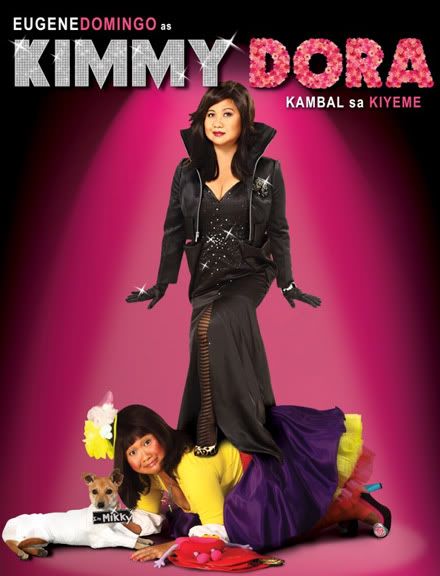 That's not a typo. The sequel to Eugene Domingo's funny-as-hell launching movie will be called Kimmy Dora 3. The reason? We have to wait and see. We can guess that a 3rd sister will be joining them. Or that the film will be released in 3D. Or that the film will be 3 hours long. No matter what the reason is, I'm sure I'll be seeing this one.
Here's hoping that 2011 will be a very good year for Philippine cinema. Also looking forward to get me some healthy dose of indie flicks from Cinemalaya and the other festivals. Nood na tayo!
So which of these films are you going to watch?