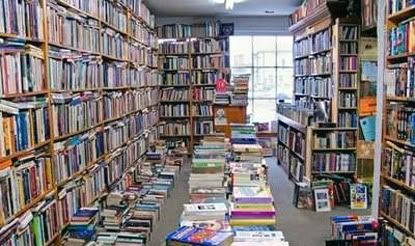 Who doesn't love bookstores? Whenever I go to a mall, I enter at least one more often than not. Kahit na walang bibilhin. I'm sure I'm not the only one who loves entering these stores, getting surrounded by books, looking for random titles to be added to your to-read list.
Of course, not all that occurs inside is pleasant. There are some people who tend to make your window shopping experience crash down the mud, forcing you to lose your cool and run out of the store as fast as possible. This isn't some rant, mind you, and I know perfectly well that people aren't perfect. Join the fun in enumerating some of the obnoxious types of people you have most likely encountered in a bookstore, starting with…

People who find it alright to stand in front of a specific part of the shelf with their feet rooted to the floor. Playing patintero with these people can be difficult. Once while exploring National Bookstore I encountered a girl in front of the section of books I planned to browse. I showed her enough hints that I wanted her to move because she was blocking the way, yet a statue like her can only do so much but to continue standing there while reading a book. I crouched down to get a better look at the portion of the shelf she was blocking and guess what? Her eyes gave me a cold stare before travelling towards her legs. Akala niya sinisilipan ko siya? Just move out of the way, lady, and your legs will be safe from our eyes.

People in bookstores who seem to think that others around them have no ears to hear what they are saying. They're the ones who believe it perfectly okay to tell a book's ending to their friends while broadcasting it up to three aisles beyond. Happened to me in the same bookstore almost a decade ago. Dan Brown was still getting the controversy he deserved that time. I hadn't read the The Da Vinci Code yet, so I picked one up from the shelf. A couple of girls were nearby talking to each other. As I passed them, one girl looked at the book I was holding and asked her friend, "Maganda ba yung Da Vinci Code?" The other girl, who probably thought I had a strong case of earwax, answered, without hesitation, "Oo, pero nahulaan ko na sa simula pa lang na traydor yung teacher."
Thank you so much, random girl. Helpful piece of information.

I'm being liberal when I say children shouldn't be allowed in churches or restaurants. The same goes for bookstores, unless, of course, there's a kiddie section where they can play. Leave a couple of three-year-olds running around, treating the entire place like a playground and congratulations, proud parent, for having them under control. In a bookstore in Paranaque, I encountered a boy, about five, treating the aisles like a track and field stadium. Pretty soon he managed to topple a huge pyramid of Rick Riordan books. Aware of what he had done, he started doing the usual puppy dog stare kids with offenses usually do. The manager of the bookstore rushed to fix the mess while muttering, "Naku, nalaglag. Hala." Soon the mother of the young boy was shouting at the manager for scaring the kid and for placing the pyramid of books at that specific location. Manager was apologetic. Mother was angry. Quite a turnaround, if you ask me.

Mababaw lang to, pero these are people who take a book from the shelf, look at it for a few seconds, and then place it somewhere else. One of my pet peeves include seeing books that are placed horizontally atop other books when there are still spaces for them to be wedged vertically. Wala lang.

Nothing's wrong with this type of bookstore customers—as long as no one gets bothered by their forgetfulness. Case in point: I was lining up at the cashier of National Bookstore (oo na, Laking National ako). The line was considerably long as the other cash registers were closed. I was quite near the cashier. An old man stood before me. In front of him were a mother and her young daughter. When it was the mother's turn to pay for her items, she casually told her daughter to run back to the aisles to get something she had forgotten to take. Her daughter did, baby steps and all. The line remained frozen. We stood there waiting. Having scanned the woman's initial items, the cashier was incapable of letting other customers cut the line.
The daughter returned a minute later carrying, guess what, a pencil. The old man before me whispered, "Sus ginoo."
Again, don't take this post too seriously. Huwag dibdibin. I'm not one of those bloggers from Get Real Philippines.
Now it's your turn to share your experiences with other people in bookstores. What happened and how did you deal with them? Shout out in the comments section below.