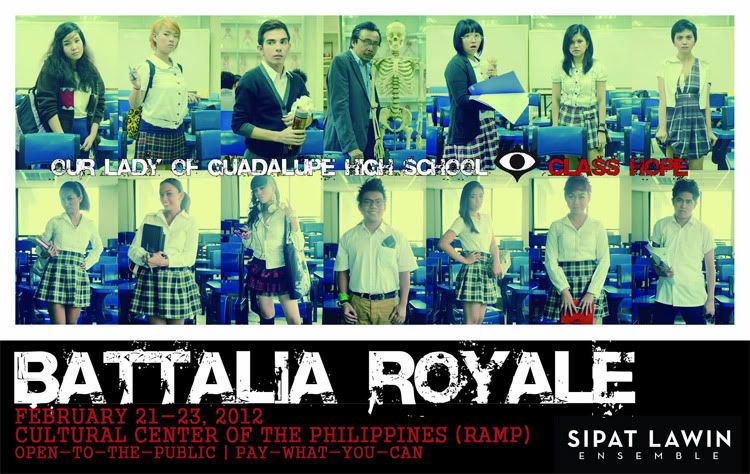 If you know me well, chances are you're highly aware I'm very vocal about my love for the Japanese film Battle Royale. In fact, I consider the movie, being the only one I've watched more than 20 frickin times, as one of my most favorite. I even have the book it was based on, for Pete's sake.
To those unfamiliar with the movie, simply imagine the Japanese government regulating the rebelliousness of the youth against adults, resulting in an educational reform act requiring high school students to kill each other until one is left standing. The film follows one of the classes unfortunate enough to have been brought on a deserted island where the so-called "battle royale" will take place.
One can only imagine my curiosity when I heard Sipat Lawin Ensemble staging the material, conveniently re-titled Battalia Royale, right in front of the Cultural Center of the Philippines. Being an admirer of Pragres, I was excited to see how the company would be able to handle the entire thing. No seats were given to the audience here. Instead, it was our task to run around the premises while fighting for a good spot to see the characters talk to and kill each other. The first time I heard this technique being employed was when I read about the New York production Sleep No More, and remembering such made me more excited to see Battalia Royale.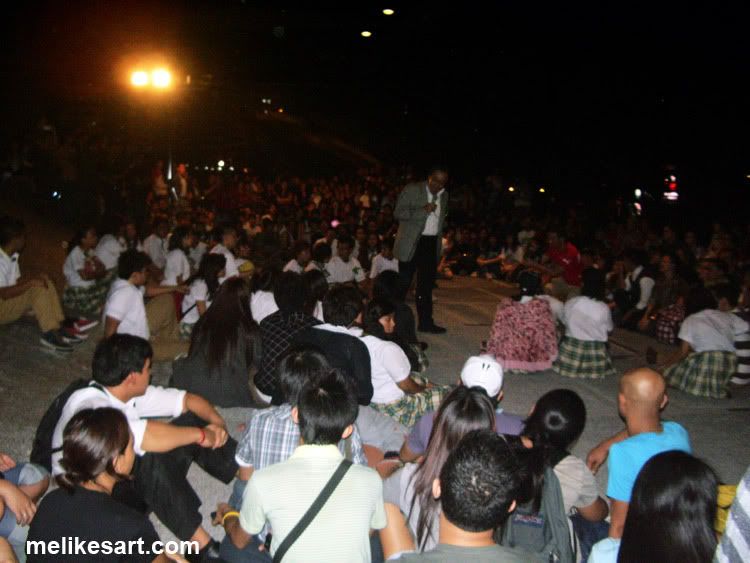 I watched the third and final CCP run (February 23rd). It started out with the students, drugged and unconscious at first, slowly waking up and realizing the predicament they got into. Bodjie Pascua, teacher and facilitator of the "game," entered and introduced himself. He wasn't teaching ABC's in Batibot now. Instead, he began explaining the rules of Battalia Royale. He even shot one of them to verify he wasn't joking—a jaw-dropping fountain of fake blood spurted out the poor girl's neck, to which the crowd cheered and howled.
The students were soon released and it was up to the audience to choose which scene they want to see. It became a matter of running around the CCP ramp while rubbing elbows and touching buttocks with a huge crowd in order to get a get a good view of the production.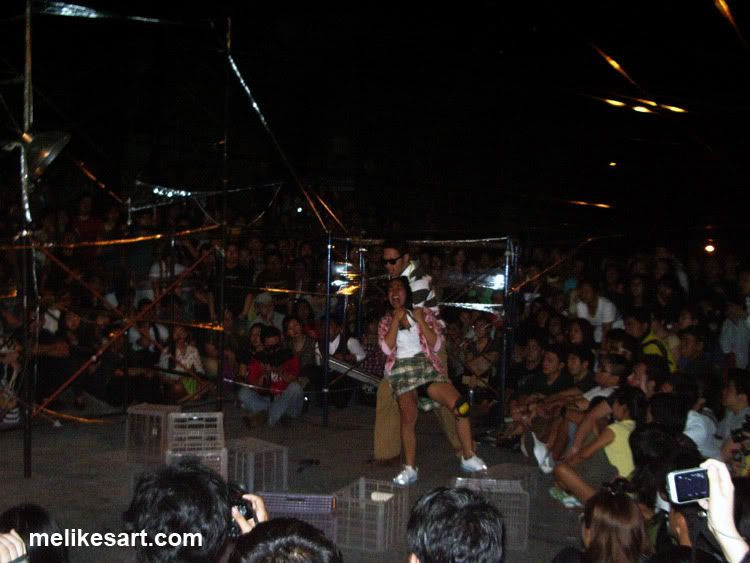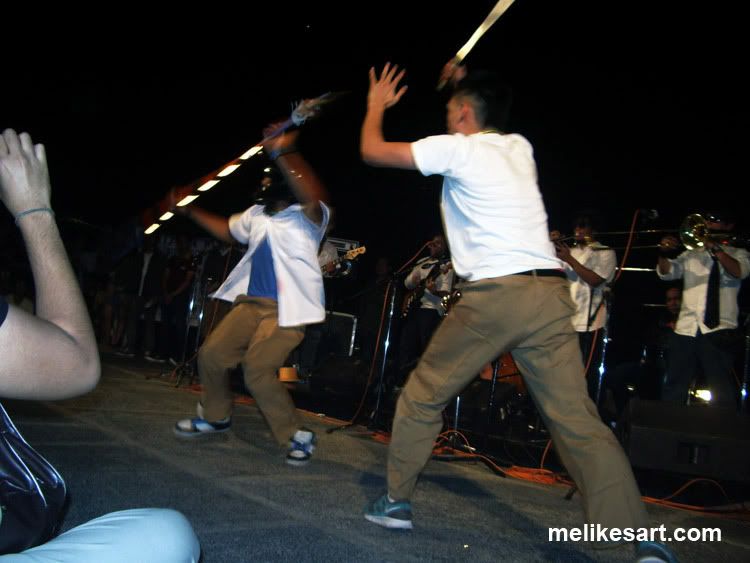 It got too crowded that it became impossible to see some of the scenes. I heard there were only a few people during its first run, but word got out, you know. If you were lucky to be sitting on the right spot, you would've seen brilliant moments such as a dialogue between two good actors, a well-choreographed sword(?)-fight, erotic girl-on-girl kiss, and much more. Yes, there was blood. Lots of it. In one particularly disturbing scene, a group of girls ganged up on their classmate, who apparently had the delusion of being a messiah. So they tied her arms and crucified her. What a messiah she had become.
It was during the end of the production's first half when Kuya Bodjie gathered the audience. A male student was brought in the middle and it was up to us to vote if a classmate, who was standing nearby, should kill him or let him live. The poor student was given time to convince us to allow him to survive. I couldn't exactly hear what he was saying, but amidst his crying and stuttering I could pick out that his mom was sick and that his dad was arriving in the country to see him graduate. The audience shouted, "Kill! Kill!" Pretty soon, he was a goner.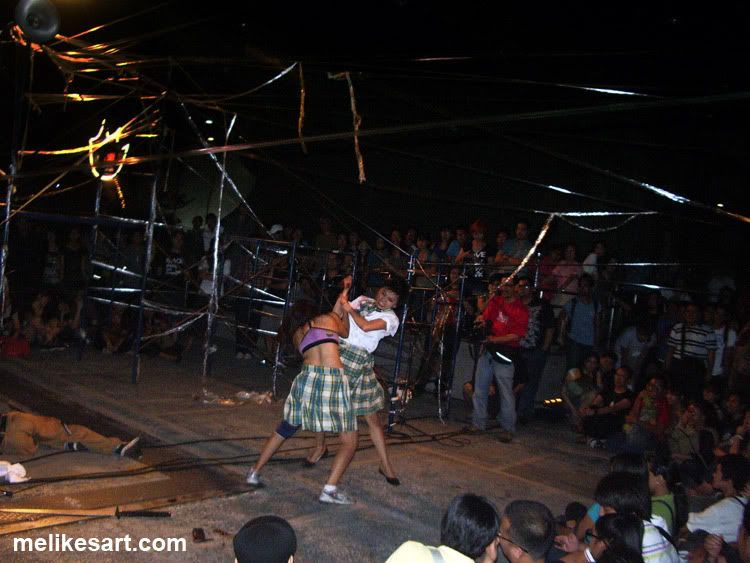 I couldn't help but feel surprised at the elation and enthusiasm the crowd showed whenever a student died in front of them. Was it really because the audience, comprised mostly of young people, actually like to see violence enacted in front of them? Or was it simply a result of a sense of oneness with the crowd, with each individual response garnered by the intensity of the reaction of others? I found myself screaming and cheering along, to be honest, as if watching a cockfight—two unwilling chickens peck each other to death. It is probably during these moments wherein one sees what Battalia Royale is actually about. By exposing gore and violence right in front of our faces, we are revealed as voyeurs who are highly aware of the enjoyment found within the brutality of man. In the end, Battalia Royale is more of a commentary on society's assessment towards violence rather than a story of students trying to kill each other.
Yes, I admit I like gory films. I can even watch a
Saw
movie without contorting any part of my face. I'd be lying if I say that the violence isn't the reason
Battle Royale
is my favorite movie, because truth is otherwise. Only time will tell if Sipat Lawin's production will cause controversy. Let's just hope something similar to the
Sasebo slashing
will not happen due to its success.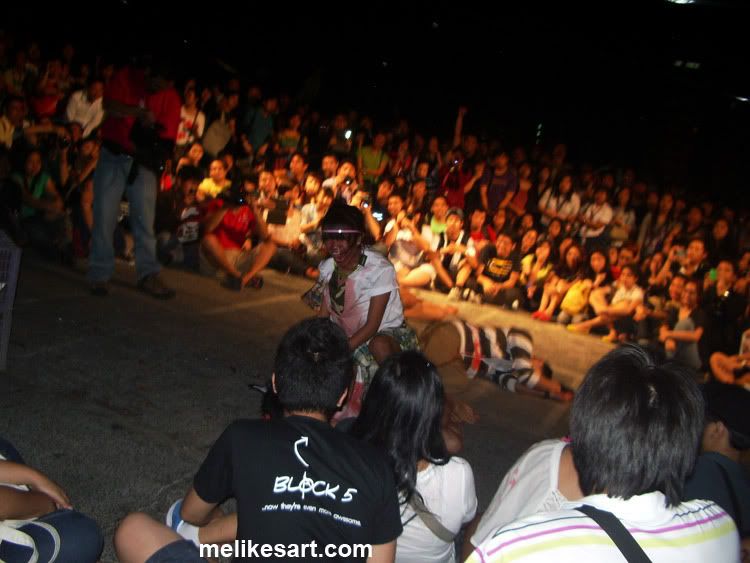 The crowd's excitement increased the moment the final showdown between the last two remaining students was happening. I think Sipat Lawin changed the winners every show to prevent spoilers. In my set, a girl won (pictured above). Kuya Bodjie stood with her in front of the crowd. As he formally announced the winner of Battalia Royale, the audience took out their cameras to take pictures of the poor girl, who was apparently shocked and bewildered after what she had gone through.
The production ended as hauntingly as possible: the dead students "rose from the dead" and danced as their alma mater song was being sung.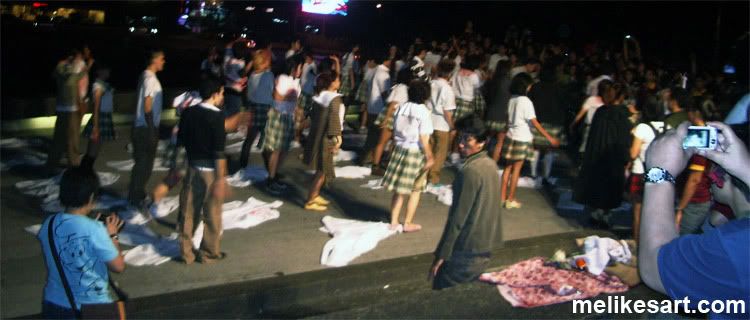 That wasn't the last we'll see of
Battalia Royale
, though. Sipat Lawin's going to restage the production on March 9-11 in an abandoned school in Cubao. If the location's not enough to get you all excited, I don't know what will. Tickets can be reserved as early as now. Make sure you bring extra clothes, though, as you can get a bit sweaty chasing after the actors (not to mention the blood can get on your clothes). For more information, you can add
Sipat Lawin Ensemble
and check out
Battalia Royale
's offical Facebook page as well.