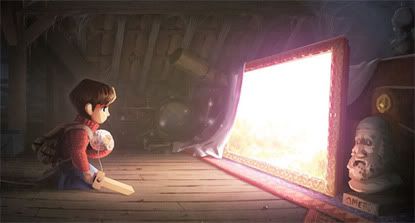 You might want to check out Daniel Lieske's
The Wormworld Saga
when you have the time. It's a webcomic featuring astonishing art and a promising story about a young boy who enters (or imagines) a world that, as the fan arts on the credits show, might appear to be a cross between a child's fantasy locale and a madman's Narnia.
The webcomic only has two chapters as of now (the third coming this April), and from what we can read so far, the story is shaping up to resemble dark children's fantasy a la Pan's Labyrinth. Strong attention is given to the characters, with the father-son subplot playing an important role in the scenario.
Of course, youth is not the only weakness the main character Jonas has. His mom died in a fire, and the mere sight of a fireplace is enough to send him crying. I find it exciting as to how his phobia will play a role in the upcoming chapters since the second one only ends with him entering the fantasy world for the first time.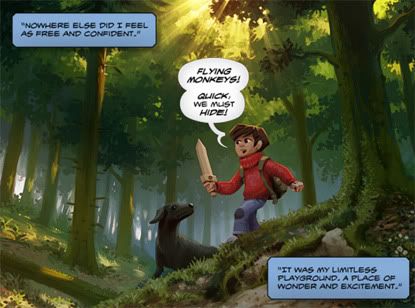 Its format is one of the reasons this webcomic is highly readable. Instead of clicking arrows to see the next image, you simply scroll down, adding a sense of urgency as one reads. Make sure your mouse has smooth scrolling function for you to enjoy the transitions from one image to another.
What are you waiting for? Basahin niyo na ang The Wormworld Saga. Click here. Now na!