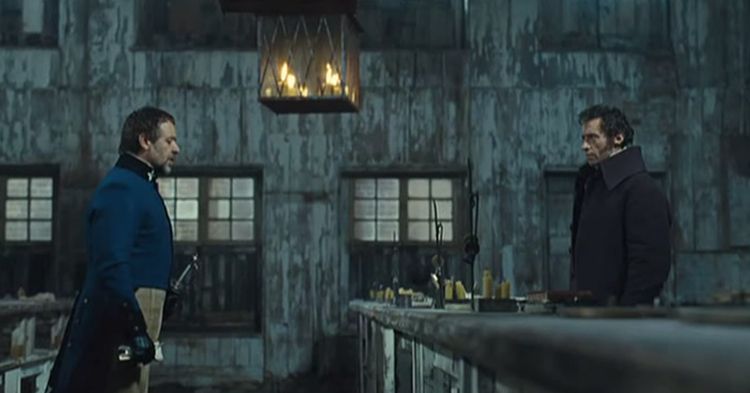 I dreamed a dream, which came true a few days ago.
Numerous times I've expressed my excitement over Les Misérables, the film version of the highly successful Broadway musical, and even if a week before its Philippine theatrical release bootleg copies began circulating around cyberspace, I passed the marshmallow test by refusing to participate in the furor. I felt I wouldn't like the movie if I went along and watched a grainy DVD screener played on a small-screened, barely audible laptop or television. Watching Les Miz is one heck of an endurance test, a surefire bore for haters of musicals and a possible failure for those with minimal capability to stomach two-and-a-half-hours of nothing but singing and crying. Simply put, as with Ang Lee's Life of Pi, Les Misérables

is that type of film that badly needs to be watched with big screen and surround sound in order to be appreciated to its fullest.
It opens with an underwater shot of a floating flag. The camera surfaces, showing a gigantic ship wobbling sideways amidst strong waves. The orchestra blares with a boom. The majestic music, combined with the forbidding sight of a ship teeter-tottering on sea may give audiences the feeling that they're in for something visually astounding. After all, Victor Hugo's 1862 novel has always been known for its epic nature, right?
Don't assume
, says the middle finger of director Tom Hooper, who for the next three hours would show close-up shots so near the actors' faces that by the end of the movie I swear everyone would've memorized each strand of Russel Crowe's facial hair. The lack of zoomed-out shots has since become a target of criticism. Not my intention to ride the bandwagon, but allow me to explain where my problem lies with the technique employed by the director.
Look down, Look down. There's a camera.
Not that I don't welcome the utilization of the close-up. It works wonders for select scenes like Valjean's Soliloquy and Fantine's 'I Dreamed a Dream.' The one-take scene of Anne Hathaway singing her guts out is devastating, and the close-up accentuates how much of a wreck her character has turned into. No one would've noticed if the song is called 'I Dreamed an Oscar'—they would've given the award to her anyway for being so great each moment she spends onscreen.
So while the close-ups do work on parts where a character engages into a conversation with him/herself, a few more instances of this technique soon victimizes a couple of things: (1) character relationships and (2) the setting.
Medium or long shots? That doesn't happen much. Take, for instance, Marius and Eponine's 'A Little Fall of Rain,' supposed to be a passionate moment between the two characters. Close-up shots of Eponine's face are shown when she sings, and Marius' when it's his turn. This is done back and forth, the camera shoved against their respective faces that any intimacy the two share at that exact moment is lost. Everything feels like a meager begging for compassion towards the individual characters and NOT on them AS A COUPLE.
I present my second argument against the close-up. See, Hooper's Les Misérables

tries to be as minimalist as possible. Sets are small, rooms are crowded, space too tight, and when the camera goes out of its comfort zone to capture the entire city (which happens during Javert's songs) we are presented with polished CGI cityscape. The film finds equilibrium set-wise, but the close-up shots seem to throw away any attempt to bring the location to life.

Les Misérables

is a story of France as much as it is a story of this multitude of people. Considering how claustrophobic the physical space is, it's just a tad disappointing that the shots show no signs of caring for the fact that the film is set in a place distant from our own place and time.
Now what do these close-ups prove, anyway? It goes to show that actors who want to improve their craft ought to seek Tom Hooper's direction as soon as possible. To be fair, acting with a camera inches from your face is not a walk in the park, and Hooper shows how much he cares for an actor's skill.
Do you hear the people sing? Kind of.
What about the live-singing method Hooper employed? I've mentioned my apprehension

a

bout this technique before, and my anxiety was right when I sat down to watch. It didn't do plenty of damage, thankfully, but if I wasn't familiar with all lyrics in the first place, I wouldn't have understood much during the first half with all the riffs, off-tempo singing, and key changes the actors deliver. Hugh Jackman seemed to be the biggest fan of the live-singing vision because he's the one who abused it so much. For me, the original melody is so important, being a strong storyteller as much as the lyrics are, and in a few parts, Jackman and Hathaway drown the words with their snobs and throat gargles. Luckily, the second half of the movie becomes more lyrically comprehensible as soon as the young ones, most of them theater actors predisposed to enunciation, make their appearances. Aaron Tveit and Samantha Barks still manage to convey the needed emotions without the need to sacrifice the melody of their songs, and if I

'

d have to single out the most praise-worthy performance in the entire two-and-a-half hours I sat my ass off, it won't be Hathaway's, but Eddie Redmayne's 'Empty Chairs at Empty Tables,' an emotionally-charged scene filled with despair and regret, but is still tonally decipherable.
For some, certain scenes such as Eponine's 'On My Own' seem out of place and unnecessary. I don't think there was something that could have been done with the way the narrative feels disjointed and jumpy at times. Stage musicals are all about giving each character his own moment, hence the amount of song numbers. In theater, we as an audience embrace the disjointedness with open arms, but it's a different case in film, where the abruptness of focus is more noticeable. This, I think, is one of the major pitfalls of shooting a film adaptation of a musical. In the first place, Hooper did well for remaining faithful to the character arcs.
Building the barricade (for future musicals)
I've no regrets about the days I spent blogging my anticipation. I'd watch Les Misérables

as soon as I've the chance. Live-singing is a ground-breaking—if not original—method to apply in a blockbuster film such as this one, and my fingers are crossed for future titles to attempt the same. Despite a few stumbles such as the claustrophobic close-ups, the inconsistency with style, and issues with enunciation, Hooper's

Les Misérables

will still be remembered as one of the most

memorable

musical films out there, and for good reasons. They remained truthful, from start to its tear-jerking end, to the original material provided by Boublil and

Schönberg

.

You can't go wrong with that, especially if you have actors who are more than capable of pulling the roles off like they were born to do it.
(See that? I managed to write a review without criticizing Russell Crowe's singi—oh, shit.)
By the way, don't leave the cinema yet once the movie

's

finished. There's an extra scene during the credits showing Valjean and Fantine eating

shawarma.