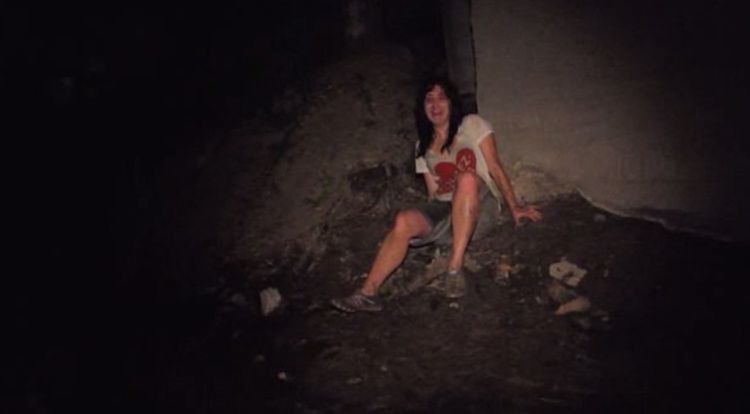 A group of young people go camping in the woods for the first time. One of them decides to annoy his friends by making a documentary and shoving the camera against everyone's faces. Just so happens that things start to get freaky until they find themselves incessantly running from point A to point B to escape whatever malevolent force is after them.
Now I'm pretty sure the synopsis above won't convince you to see it, but if you assume Evidence is just another run-of-the-mill The Blair Witch Project clone or, worse, a crappy found-footage indie horror movie shot on a low budget, then you're in for a surprise.

Bored, I began watching it with low expectations.

Now trust me when I say Evidence is a genre-busting flick which disguises itself as a modest losers-lost-in-the-woods horror movie before bringing out the guns to unleash twists and turns right after the first thirty minutes or so.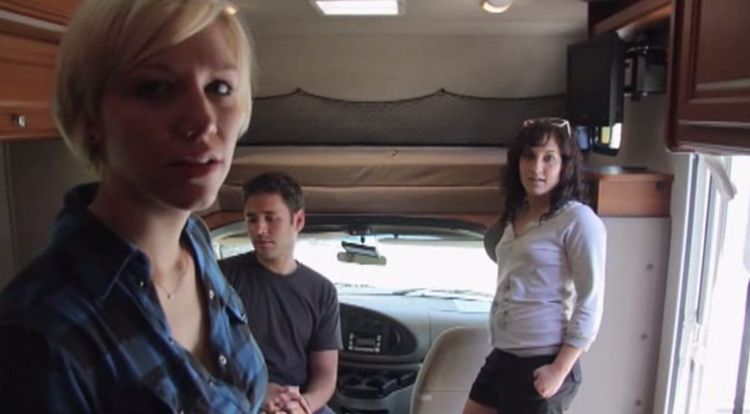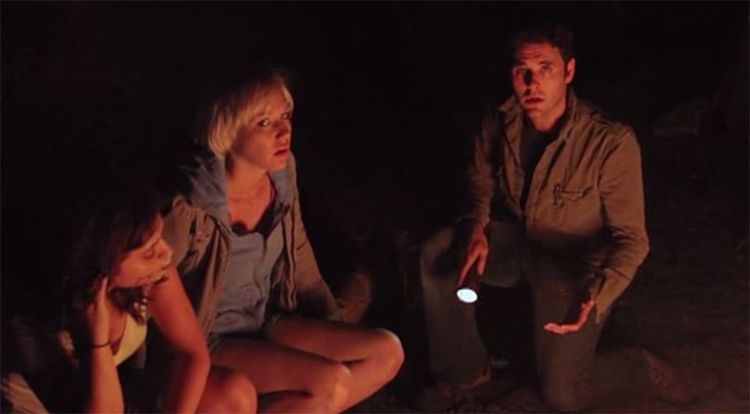 I don't want to spoil anything, but I'm guessing the mere mention of The Cabin in the Woods sort of does. If you enjoyed Cabin, you have lots of reasons to

enjoy

Evidence as well. I personally love it when I watch a film only to find out in the end it's not what I thought it would be. Sure, the first half contains repetitive scenes of the characters joking around and screaming obscenities at each other, but it's the second half where the movie shines, leaving the viewer defenseless as he or she tries to decipher what the hell is going on.
The movie doesn't provide us with enough exposition, which is a good thing. No one stops from running just so he or she can analyze the situation or explain why things happen the way they do. Once the two vulnerable ladies begin running through the woods while being chased by God-knows-what, everything is sp

ontaneous just so you can sit back and enjoy

. Another good news is that the actors handle their roles with ease. You feel them doing their best to make their performances as natural as possible so the simulative aspect won't be foregrounded.
I wish I can reveal things, but that won't do you guys a favor. Watch Evidence and form your own judgment. You might not understand everything (I didn't), and pretty sure not many of you will like it, but at least you get to see a lesser-known, polarizing found-footage gem. I don't know what the heck is wrong with

those

who gave it low ratings on IMDB.
Ryan McCoy, who is both the writer and one of the actors of the movie, has this to say

:

"
Every other indie film of this type relies on one or two things to happen, or pop. With Evidence, we throw not just the kitchen sink at you, we throw the whole damn house."
And the

y sure did.

Here's the t

railer.